Josep-Maria Ribera
Catalan Institute of Oncology, Hospital Germans Trias i Pujol, Spain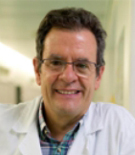 Professor Josep-Maria Ribera is a practising physician and researcher. He is the Director of the Stem Cell Transplantation Unit at the Hospital Universitari Germans Trias i Pujol (HUGTP) and Head of the Clinical Hematology Department for the Catalan Institute of Oncology (ICO) also at HUGTP. He joined the Josep Carreras Institute at its creation and participated in the process of creation of the Acute Lymphoblastic Leukemia research group.
Prof. Ribera has been Associate Professor of Medicine at the Autonomous University of Barcelona (UAB) since 2003. He teaches post-graduate courses at the UAB, University of Barcelona, the Universidad Internacional Menéndez y Pelayo, and the Escuela Nacional de Sanidad as well as carrying out other varied teaching duties.
His work and publications have made him well known internationally and he is a member of the Steering Committee for acute lymphoblastic leukemia of the European LeukemiaNet and the European Working Group for Adult Acute Lymphoblastic Leukemia (EWALL).
Prof Ribera's research focuses on the study of new treatment approaches and prognostic factors in adult acute lymphoblastic leukemia and he collaborates closely with the Lymphoma research group in the study of therapy and prognosis in HIV-related lymphomas.
He has authored/co-authored more than 400 published clinical papers and 90 book chapters on Haematology, Oncology and Internal Medicine.